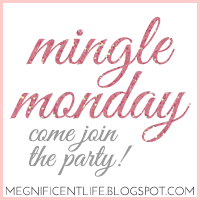 I'm linking up again with
Meg
to Mingle on Monday.
Normally, I just ramble about whatever, but today I wanted to post about Meg's question...."Are you a dog person or a cat person"
Personally, I think not liking animals (dogs in particular) is a character flaw.
Cue: Meet my Busy girl.
Busy is my year and a half old black lab. She's the product of a beautiful black lab Gracie and an unknown father (she's my bastard child). She has costed me more than a semester of college (or a year!) when she broke her hip at 9.5 months. But she is so worth it.
My parents (and I) also have an 11 year old chocolate lab named Coley. He is literally the SWEETEST dog in the history of dogs.
Snuggling with Coley B.
Being sassy and giving me a high five.
The king, our Coley B
Giving the side eye